The urban electric car that challenges conventions and brings emotions.
In 2025 we will launch the Raval, previously known as our concept UrbanRebel – the urban electric car. A vehicle that will take CUPRA far beyond its traditional boundaries. The Raval is driven by emotion, designed, and developed for a more rebellious electric world.
The front-wheel drive urban electric car uses the Volkswagen Group's MEB Small platform to deliver an emotional, high-performance urban vehicle.
The 4.03m long vehicle is a hero of sustainability, integrating advanced recycled polymers and bio-based materials to push the boundaries of what is achievable, and deliver a more environmentally conscious vehicle.
Mixing 3D printed and 3D knitted manufacturing approaches with parametric design to improve performance and value perception.
Lightweight design both in the exterior and interior help the vehicle's 226PS (166kW) electric motor and battery pack push the urban electric car to 100km/h in just 6.9 seconds and give it a range of up to 440km (range version).
Designed and developed in Barcelona, the CUPRA Raval will be launched in 2025; production is planned in Martorell, subject to the Strategic Project for Economic Recovery and Transformation program (in Spanish, PERTE) for the Electric and Connected Vehicle (in Spanish, VEC).
"The UrbanRebel is more than just a car to us. This is the model that will democratise urban electric mobility. Accessible and sustainable, this will be the next generation's entry into our range.", said Wayne Griffiths during the Impulse event.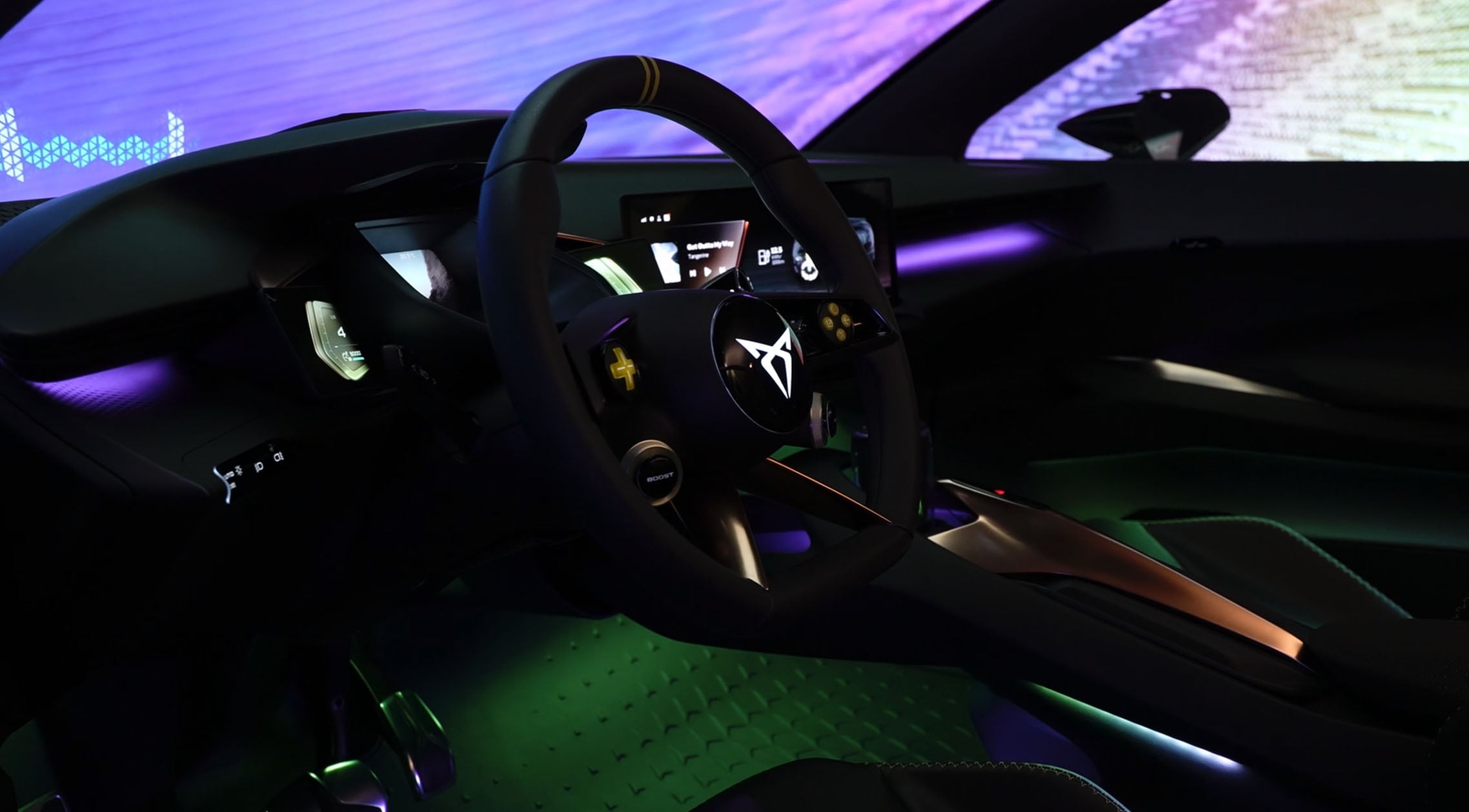 CUPRA X FORZA
It's time to conquer new horizons. Have you ever imagined yourself as a professional CUPRA driver? Now you can experience the impulse of driving the CUPRA UrbanRebel Racing Concept on Forza Horizon 5. Players of Xbox Game Studios and Playground Games' Forza Horizon 5 can now take control of the latest CUPRA concept to join the vehicle stable. Players are invited to step behind the wheel of the all-electric concept race car with a truly rebellious spirit. It's coming to the real world in 2025 (as a road version), however, Forza Horizon fans can experience the CUPRA UrbanRebel Racing Concept before anyone else in Forza Horizon 5.
Forza Horizon 5's Virtual World

It's the perfect match for Forza Horizon 5, where you can drive this unconventional concept car early, setting the fastest lap time around the Arch Of Mulegé circuit in Forza EV Rivals, or by putting it to the test in dedicated Seasonal PR Stunts and crossing the finish line in true rebellious electric style. Forza Horizon 5 takes place in Mexico, which is CUPRA's main market outside Europe and where the first CUPRA City Garage was opened.
The CUPRA UrbanRebel Racing Concept will be distributed to everyone who plays Forza Horizon 5 during the Horizon Holidays series. It can be redeemed in the "Gifts" tab of the Message Centre for free until January 5th, 2023.

This will be the second CUPRA car in the game. The Forza racing franchise is the official gaming partner of Extreme E and, because of this partnership, the brand's all-electric CUPRA Tavascan XE was already present in last summer's edition.
Forza Horizon 5 is available on Xbox Series X|S, Xbox One, PC on Windows and Steam, and Xbox Game Pass including console, PC and Cloud Gaming (Beta) with Xbox Game Pass Ultimate.
Did you catch our Unstoppable Impulse event in Terramar?
We came together to present the future of electrification and our exciting plans for the following years with our new product range.